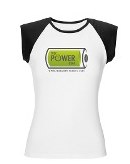 We've had a surprising number of listeners ask about Mac Power Users clothing. I think this has a lot to do with the fact that our graphic artist,
Darren Rolfe
, is brilliant. Regardless, we have opened the
Mac Power Users Outfitters
. I will be adding some MacSparky stuff and other funny Mac shirts in the future (Am I the only one that thinks a shirt that said Cmd Z would be hilarious?). I'm not convinced anyone is really going to buy any of this stuff except perhaps me and my mom (though I'm not really sure about mom). Regardless, have at it.